Be prepared. Haunting, mesmerizing, "Echolocation" by Myfanwy Collins is a page-turner you will not be able to put down until you've reached the end.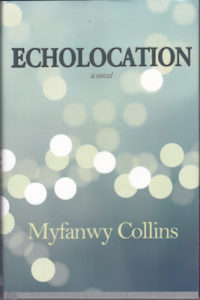 It's the story of four women connected by family and the bleak, harsh, land of northern New York. Some have escaped, but they're all brought together again by tragedy and secrets they thought they'd left behind. There's Auntie Marie, dying of cancer, the two girls she raised, Geneva and Cheri, and Renee, Cheri's mother, who ran away to Florida not long after Cheri was born. Cheri returns to help Geneva with their aunt, and Renee shows up unexpectedly with a secret that will change them all.
The characters in "Echolocation," men and women alike, are flawed in the best, most fascinating, ways, and though they make mistakes, they are not beyond redemption, not beyond our empathy. Collins clearly loves her characters, weaknesses and all, and that authorial love elicits a similar compassion from the reader. These four women are fierce. Auntie Marie's devotion to Cheri and Geneva is as strong as her devotion to God; Cheri is determined in her self-destructive desire to deny her feelings; Geneva's strength in carrying on with life after a devastating accident is remarkable, and Renee finally discovers she's capable of caring for another more than herself.
This is a complex story, told with an assured, deft hand. Collins is a master at weaving story lines together in an artful, spare way. Every word is well-chosen. Every nuance is perfectly placed. "Echolocation" is literary fiction at its finest.