When I first read the publisher's introduction to Francisco Goldman's "Say Her Name," I have to admit I was distracted by the fact that the novel appeared to be more truth than fiction.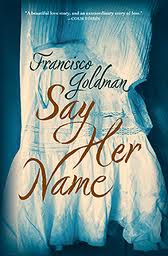 Francisco Goldman really did lose his young wife, who was also a talented writer, to a horrible swimming accident while on vacation in their beloved Mexico. As I was reading, I kept wondering why not simply a grief memoir? Perhaps calling it fiction allowed Goldman the distance he needed to write of such a painful event, perhaps the author strayed from the facts here and there. Eventually, the beauty of Goldman's lyrical prose convinced me to let go of my questions and trust the writer.
Goldman's elegant precision in laying out details of the couple's daily lives is impressive as is his use of metaphor and language. I was also impressed with the design of the book because it was after reading so many details, of the characters' histories, desires, frailties, each detail described in an exacting, loving manner, that I felt I had come to know these people, thus making the tragedy of Aura's death all the more affecting. Goldman doesn't withhold, he freely admits to his failings and he keeps the reader guessing as to why Aura's family would blame her husband for her death. "Say Her Name" is the perfect example of the kind of alchemy made possible with words and heart. By the time I'd finished, I realized Goldman had not simply written a story of grief, he'd written a love story.
*Review first published in the July 10th edition of The Pilot.